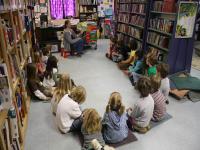 I loved my Library Science studies at ASU! The professors are knowledgeable and leaders in their field. The mixture of online and face-to-face classes presented a unique opportunity to learn from many colleagues in a variety of ways. The program also allowed me the opportunity to travel to ASU's sister library in Bolivia which was an experience I'll never forget. More than anything, my time at ASU reinforced my belief in the value of the work of librarians and media specialists and gave me the tools and the confidence to advocate for my library and for my students. We teach and inspire and share a love of learning and reading with students that is unique from anyone else and I couldn't be more proud to be a librarian.
Laura Branch
MLS 2011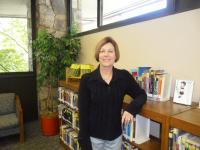 My name is Sharon Woodrow. I am an alumnus of Appalachian State University, graduating May 2011. My current job is Director of the Haywood County Public Library system. Although I've been working at HCPL for a number of years, Appalachian State University enhanced my view of twenty-first-century libraries. While teaching the core standards of library science such as cataloging and collection development, ASU professors introduced the latest technologies and strategies to students to ensure that libraries not only become better informational centers but friendlier, social environments for our ever-changing communities. ASU's Library Science Program has prepared me for an exciting, challenging career in my hometown library.
Sharon Woodrow
Director, Haywood County Public Library
MLS 2011
I never expected landing a job before I had my graduate degree, but that is exactly what happened. I worked as a teacher assistant, then became a media assistant at East Bend Elementary School. When the media coordinator decided to take a position closer to home, the principal called me, and after an interview, I was chosen as the new media coordinator. It has worked out perfectly. I am serving my internship while performing my duties. Whether it was Cataloguing or Teacher as Researcher, I have utilized some form of instruction from ALL of the classes I have taken at ASU. I have recently completed a successful book fair, and have collaborated extensively with teachers. I never thought that I would be the one who would have a position before I graduated, but here I am. I could not have been better prepared!
Melissa Norwood
Media Coordinator, East Bend Middle School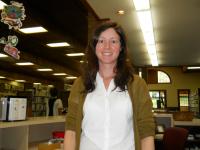 I never would have imagined three years ago prior to entering ASU's library science program that I would today be branch manager of a wonderful community library in Canton, N.C. The preparation and training I received through the library science program at ASU made this possible. From collection development to cataloging, the program teaches participants the many elements of librarianship. The program is also particularly strong when it comes to promoting the use of technology in the field, which is a crucial component to the survival of libraries in the 21st century. I am deeply grateful to the talented and experienced library science professors at ASU, all of whom endeavor to work closely with their library students throughout their studies and remain only an e-mail away when questions arise after graduation. Thank you, ASU!
Mannie Dalton Crone
Manager, Canton Branch Library
Haywood County Public Library
MLS 2011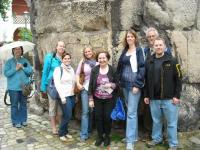 As a future media coordinator I wanted to learn about literature from around the world. The Munich trip allowed me to do both. I explored castles (and even worked in one), read unique world literature, visited numerous libraries, obtained a Bavarian library Card, walked through a holocaust memorial, tried new foods, ate meals with people from all over the world. I did not have one bad food experience. The coffee was the best I've ever had and I miss my chocolate croissants. I also miss the architecture. While the castle and churches were awe-inspiring even simple things like carved doors and statues were beautiful and impossible to pass by without a second look. I have been sharing these experiences with my students and staff members every day since I returned, and my lessons are stronger because I finally experienced some of the adventures and lessons I so often teach my students.
Eric Williamson
Current MLS candidate